2021 Jeep® Wrangler 4xe named Green SUV of the Year™ by Green Car Journal

Wrangler 4xe boasts 375 horsepower and delivers up to 25 miles of pure electric operation for daily commutes with no range anxiety
2021 Jeep Wrangler 4xe is the natural evolution of nearly 80 years of Jeep® capability leadership
Wrangler 4xe retains the Jeep Wrangler's Trail Rated running gear: solid front and rear axles, full-time 4x4 two-speed transfer case, fully articulating suspension and 30 inches of water fording capability
Jeep 4xe vehicles provide new levels of efficiency, environmental responsibility, performance and capability, on and off the road
The innovative 2021 Jeep® Wrangler 4xe plug-in hybrid has been named Green SUV of the Year™ by leading industry publication Green Car Journal. The announcement was made this week at the Virtual Greenbuild Conference and Expo.

The Wrangler 4xe delivers up to 25 miles of nearly silent, zero-emission, electric-only propulsion, making it commuter friendly as an all-electric daily driver without range anxiety. It is also the most capable and eco-friendly Jeep vehicle off-road - combined with the open-air freedom that only Jeep Wrangler offers. 4xe is Jeep's global name for its plug-in hybrid electric vehicle technology.

"The Wrangler 4xe delivers an exciting and environmentally positive way for Jeep fans to enjoy their on- and off-road experiences," said Ron Cogan, editor and publisher of Green Car Journal and GreenCarJournal.com. "Its powerful plug-in hybrid powerplant brings welcome performance, while enabling up to 25 miles of trail or street driving exclusively on quiet, zero-emission battery power."

The Wrangler 4xe's hybrid powertrain combines a high-tech, 2.0-liter four-cylinder turbocharged engine with two electric motors, a high-voltage battery pack and TorqueFlite eight-speed automatic transmission. Torque from the electric motors in the Wrangler 4xe arrives instantly on demand from the driver. The powertrain also delivers fuel-saving, seamless, start-stop operation of the engine.

The most advanced powertrain ever developed for a Jeep Wrangler maximizes efficiency with an estimated 50 miles per gallon equivalent (MPGe). With 375 horsepower and a 0-60 MPH time of just 6.0 seconds, the 2021 Jeep Wrangler 4xe delivers performance, benchmark off-road capability and an electric vehicle lifestyle.

The Jeep Wrangler 4xe driver can tailor the hybrid powertrain to best suit each trip with the E Selec mode buttons on the instrument panel. Hybrid, the default mode, blends power from the engine and electric motors. Electric prioritizes EV operation until the battery reaches its minimum charge, while eSave prioritizes propulsion from the engine, saving the battery charge for later use.

Like all Jeep Wranglers, the Wrangler 4xe is Trail Rated with solid front and rear axles, full-time 4x4 two-speed transfer case, fully articulating suspension and 30 inches of water fording capability. All Wrangler 4xe power modes are available when the drivetrain is shifted to 4Lo. The seamless integration of electric power into the 4x4 drivetrain elevates the Wrangler 4xe to new levels of off-road performance.
_________________________________________________________________________
2021 Jeep Wrangler Rubicon 392 Has a 470-HP 6.4-Liter V-8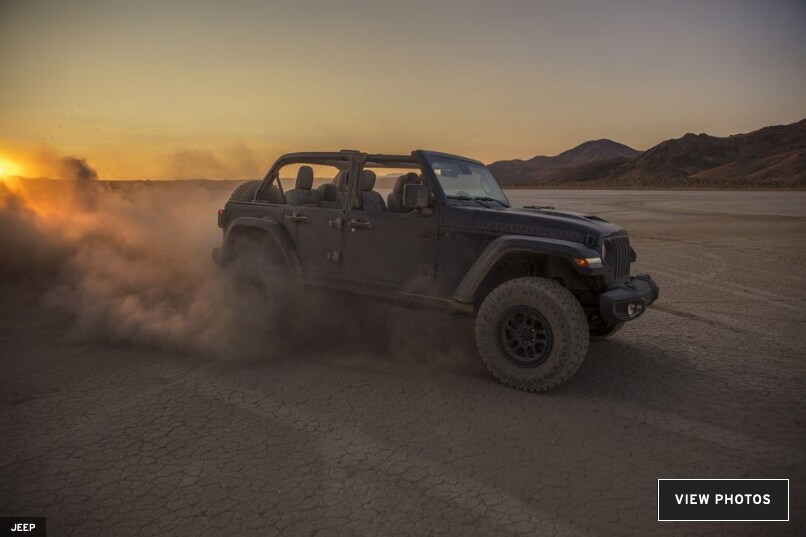 The 392, which sits an inch taller than the standard Rubicon, will launch to 60 mph in a claimed 4.5 seconds. It'll go on sale in early 2021.
Jeep has announced that the Wrangler Rubicon 392 is headed to production, and it'll go on sale early next year.
It's powered by a 6.4-liter V-8 that produces 470 horsepower and 470 lb-ft of torque, and Jeep claims it'll do 60 mph in 4.5 seconds.
Available only as a four-door Rubicon model, it's equipped with 33-inch all-terrain tires, Fox shocks, Dana 44 axles, and it's an inch taller than the standard Rubicon.
Read More
_________________________________________________________________________
Jeep Teases Production 2022 Wrangler With 392 Hemi V8 In New Video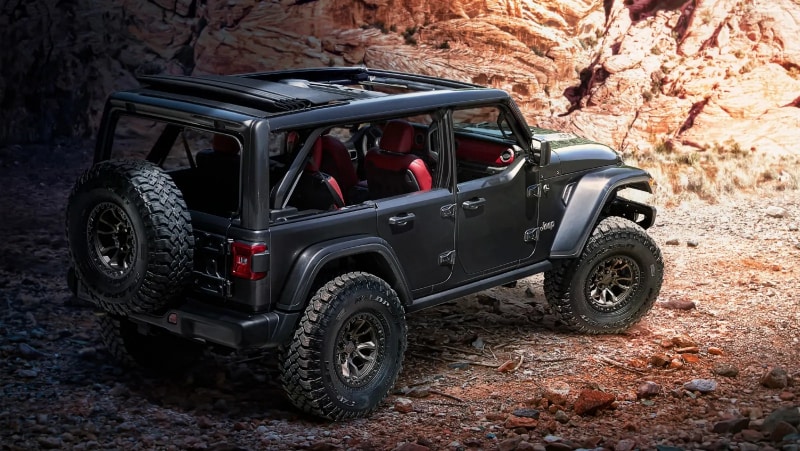 Elizabeth Blackstock, Saturday 11/14/2020, Jalopnik.com

"Back in July, Jeep confirmed that the 6.4-liter V-8 Wrangler Rubicon 392 Concept was definitely a thing-but today we got our first video, and it confirms the news that the marque has been hinting at: We're going to be getting a production Jeep Wrangler with a V8 engine, and it's going to be available to buy in 2021.

We were skeptical about this in the past, especially because it was loaded with that big word: concept. There's nothing worse than a teaser for a cool machine that's never going to come to fruition. But this is the real deal. This is production.

Jeep posted its most recent video on Instagram. It's short, but you can just hear the growl of the engine as it accelerates through the desert. That noise is unmistakable, and it's not one you've ever heard in a production Jeep before.
Its previous post came on Twitter, which just showed a hood with a conspicuous bump and 392 inscribed on the side. From the last image, it was impossible to tell whether we were getting a Wrangler or a Gladiator, but the new video gives us the confirmation we were looking for.
There was very little to deduce from the June image, but now we can start talking specs.
Here are some highlights from Jeep's concept press release (which may or may not be exactly true for the final production version):
Dana 44 axles, a Selec-Track full-time two-speed transfer case, Tru-Lok electric front- and rear-axle locking differentials and 37-inch mud-terrain tires that wrap around custom 17-inch beadlock wheels
A factory Jeep Performance Parts two-inch lift kit and 37-inch tires combine to improve articulation and contribute to unprecedented levels of water fording capability (34 inches) and ground clearance (13.25 inches), as well as improved approach (51.6 degrees), breakover (29.5 degrees) and departure (40.1 degrees) angles.
Rubicon rock rails, steel bumpers with a Warn winch and a steel belly pan
Eight-speed automatic transmission and a 3.73 gear ratio
Chrysler's 392-cubic inch 6.4-liter V8
HEMI
engine produces 485 horsepower and 475 lb-ft of torque. They're the engine of the aftermarket for Jeeps, but the company has never actually implemented such a powerful engine in its machines before. The best you can get is the 2020 Gladiator with a 3.6-liter V6 putting out 285 HP and 260 lb-ft of torque."
_________________________________________________________________________