World's Rarest 1969 Dodge Daytona Is Poised to Break Auction Record



The Mecum Auctions roadshow rolls into Indianapolis on May 13-21 and Mopar fans will want to have their eyes glued to MotorTrend for this one, as one of the most significant Dodge muscle cars to ever assault the pavement is crossing the auction block, and when it does, this is the exclusive inside story they'll be talking about. We'll dive into that in a moment, but first some quick history. The 1969 Dodge Charger Daytona was a one-year-only model designed specifically to dominate the high-banked super speedways of stock car racing. Its aerodynamic nosecone and raked rear wing made it a terror on the track but ungainly on ordinary roads. The Daytona's extremely limited production of just 503 examples makes it one of the rarest and most sought-after cars in the world of muscle car collecting...

---
Bigger, Better, Faster, Greener Jeep® and Jeep Performance Parts by Mopar Concepts Heading to the 56th Annual Moab Easter Jeep Safari

Five one-of-a-kind Jeep concept vehicles take four-wheeling to the next level and prove why there's nothing quite like legendary Jeep 4x4 capability
Two new Jeep concepts from JPP, plus three that debuted at the 2021 SEMA show, are also heading to Moab to showcase the latest prototype and production parts
Jeep brand's mission of Zero Emission Freedom takes charge with several electrified concepts, including new Jeep Wrangler Magneto 2.0

---
The first 7-passenger Jeep Wrangler
The Jeep Wrangler Overlook is a concept that adds 7-passenger seating for the first time!
---
Starting this fall you can get a pink Jeep Wrangler!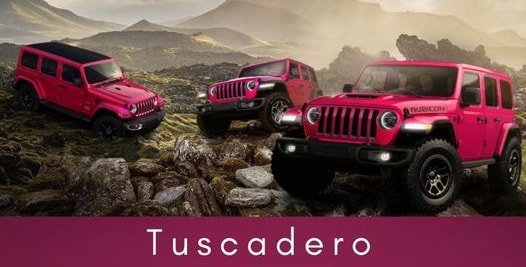 Jeep is adding color options like Gecko Green, Chief Blue, Nacho Orange, Hellayella, and a few others. This fall we get an even more eye-popping paint job to that palette: Tuscadero.
---


Learn more about your 2021

Ram truck's towing and payload capacity with help from this guide:

bit.ly/2PuxesB
---
The 2022 Jeep Grand Wagoneer Revives a Legend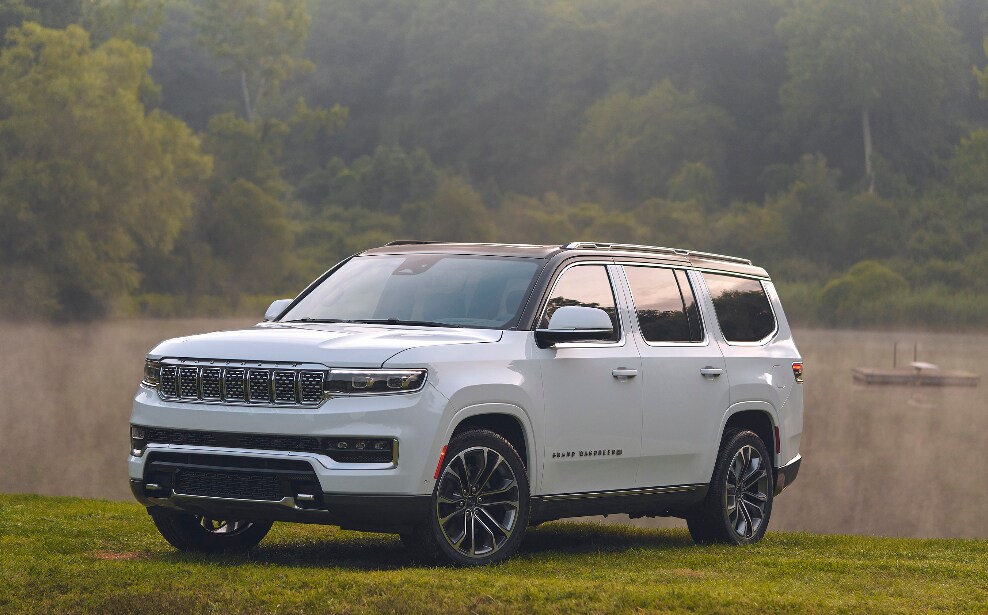 The Jeep Wagoneer lived a long and storied life under the banner of multiple owners. Kicking off in 1962 and ending production in 1991, it's easy to see how Jeep's long-running nameplate has become a force in the collector-car market and a beloved piece of automotive history. Now after nearly 30 years, Jeep has revived the Wagoneer and its more luxurious counterpart, the Grand Wagoneer. While the 2022 Jeep Wagoneer is well appointed and features a 5.7-liter Hemi V8 under its hood, the Grand Wagoneer leans into excess with an army of screens, leather, and a 6.4-liter V8 in place of the smaller V8.
On this episode of
Quick Spin
, Patrick Carone climbs behind the wheel of the 2022 Jeep Grand Wagoneer and puts it through its paces. Carone takes you along while he drives the new Grand Wagoneer on the pavement, and on a stint off-road. Carone also is given a tour of the 2022 Grand Wagoneer by Jeep's head of exterior design for the Wagoneer, Taylor Langhals. Carone also captures his initial experience of the new Jeep. Expanding on these segments, Carone talks with host Wesley Wren about the Grand Wagoneer, its place in the world, and his experiences with the new SUV. Closing the show, the pair discuss what makes the 2022 Jeep Grand Wagoneer special.
Tune in
---
First-Ever Jeep EV Coming Very Soon, Followed By an Electrified Dodge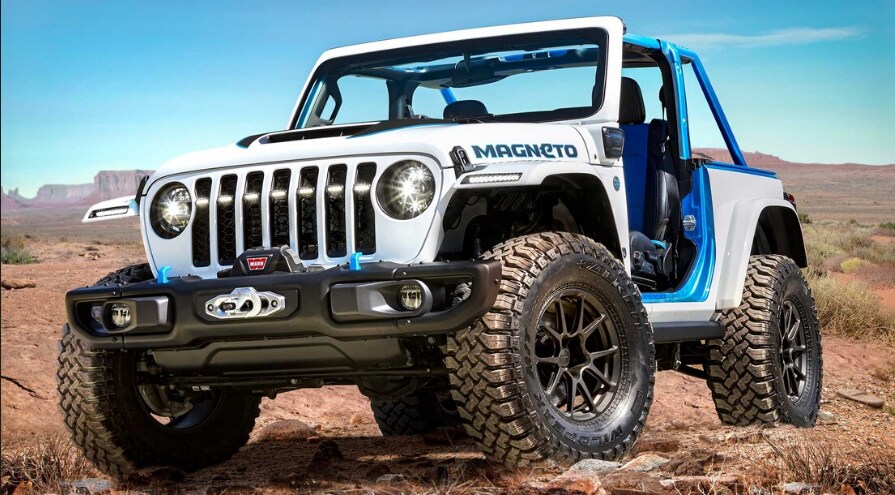 Alexander Stoklosa

Author,
Manufacturer

Photographer |
During a recent marathon day outlining its future EV plans, Stellantis-that's the cross-Atlantic mashup of what formerly was known as Fiat Chrysler and the French PSA Group-promised that electrified Rams, Jeeps, Dodges, and others were on their way by 2024 to 2030. Some of the news was jaw-dropping, including the Dodge-branded electric muscle car seemingly capable of all-wheel-drive burnouts. An all-electric Jeep, widely expected to be a Wrangler, is on its way, too, as we've known for some time. But the burning question many of these announcements left was: When?
Thanks to a Stellantis earnings presentation covered by The Detroit News, we now know when to expect at least some of these electrified products: The electric Jeep will arrive by 2023, while the rest of Jeep's lineup will begin to offer electric variants by 2025.
On the Dodge end of the Stellantis house, look for a new plug-in hybrid (PHEV) model to arrive in 2022. We're not sure which product will get that PHEV powertrain, but a next-generation crossover or SUV is a good bet-likely the next-generation Durango, which like today's model, shares underpinnings with Jeep's (now-outgoing) Grand Cherokee. With a new Grand Cherokee here in three-row form (the first ever for the nameplate) and arriving soon in two-row and 4xe plug-in hybrid forms, surely the Durango is on the cusp of replacement and in line for the 4xe treatment, too. The electric muscle car previously announced won't arrive until 2024.
Timelines for Chrysler and Ram going electric remain elusive, though we know there will be a Ram EV pickup in 2024. Stellantis's luxury brands, including Maserati and Alfa Romeo, are going to make the jump to fully electrified lineups by 2027 here in America.
---
The New, Redesigned 2022 Compass Reveal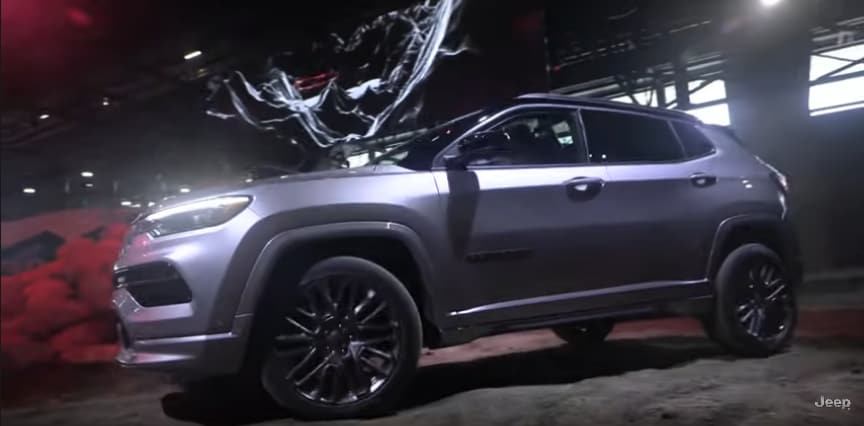 Watch the full reveal to get your first look at the redesigned 2022 Compass. Coming Fall 2021.
---
Dodge is Planning to Build the Fastest Muscle Car in Their History: Except It's Electric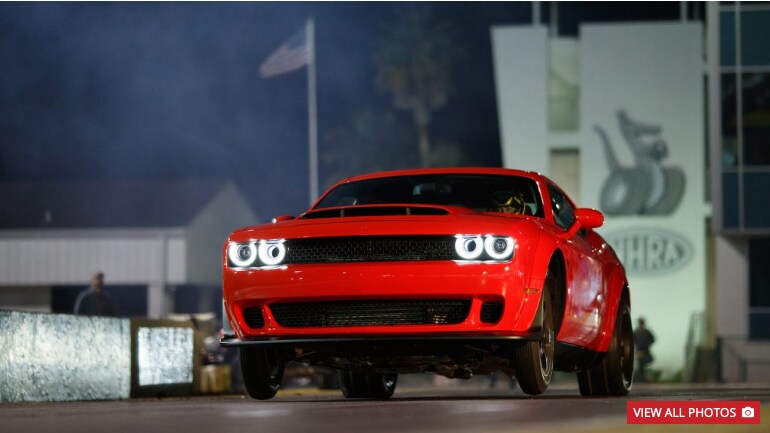 Demon, Hellcat, or Ghoul - take your pick - Dodge has a current lineup of muscle cars that have no problem pinning you in your seat. However, with the announcement of the new Tesla Plaid S taking over the headlines, Dodge came back and did what they do best - compete and make headlines of their own, which is why they dropped a bombshell about an electric muscle car that will be the fastest in their lineup.
Nobody wants to be outdone, especially an automotive manufacturer with a fruitful history like Dodge and its Hemi. However, Tesla came onto the scene and created a market that otherwise didn't exist. They've stepped on some toes in the process with their recent "Quickest Production Car" crown and brought out the competitive juices of Dodge.
The Dodge Challenger SRT Demon, with its 840 horsepower and 770-pound-feet of torque (when using 100-octane), previously held the quarter-mile record with an astonishing 9.65-second run. That was until Tesla released their Model S Plaid, with 1,020 horsepower and 1,050-pound-feet of torque, and achieved it in 9.23 seconds. To stir the pot a little, Tesla has a 180 horsepower and and 280-pound-feet of torque advantage, so…
Electric vehicles have come a long way, and despite their gaudy torque numbers and ability to go fast in a straight line, they still don't have the capabilities of an internal combustion engine, reliability being one of them. That doesn't mean they aren't improving drastically, which is why Dodge wants to jump in on the fun. This will be the first time Tesla has some real competition, not to say there haven't been others in the market to this point like the Mustang Mach-E.
Unnamed sources revealed to The Detroit Bureau that Dodge is taking this opportunity to work on an electric muscle car, described as "the fastest car they've ever made." There are two ways to feel about this - the first is that it's awesome. We are witnessing the best horsepower wars in modern history and 1,000 horsepower is as common today as a Honda Civic.
However, another way to look at this is also auto companies are not only acknowledging the shift to an electric world, but they're taking it seriously. Embracing the future isn't bad, but change is, admittedly, hard.
Details at this stage are scarce, and CEO of Dodge, Tim Kuniskis, told Fox News Auto recently that "electrification is inevitable in this space. It will help internal combustion engines perform significantly better and in some cases electrification all by itself."
His comments left us wondering what he meant - it will help internal combustion engines in this space? Could this mean an even faster internal gasoline-powered car could be in the works as well? Although we're not quite sure by what he meant, we are sure of our trust in Dodge and their ability to produce next-level cars and guide us into the next chapter of the horsepower wars.
---


The 2021 Grand Cherokee L now comes with three rows that seat up to seven passengers! Learn more
---
Here's What Everyone Forgot About The Dodge Challenger Hellcat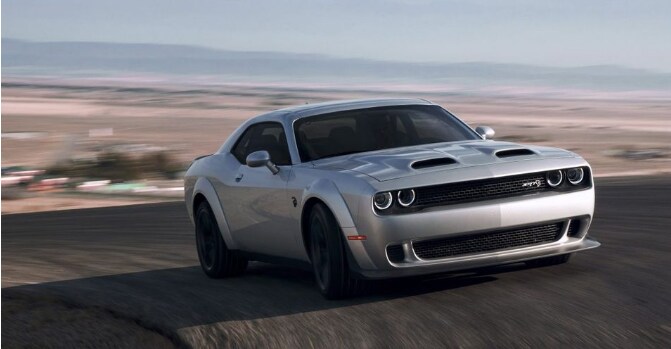 by Lewis Mahoney | May 26, 2021 |
HotCars
Dodge
has made some of
the greatest cars in American history
, they almost always have massive power and the Dodge Challenger Hellcat certainly lives up to all expectations. The Challenger picks up from where the original left off and just adds so much more. It's one of the most powerful cars ever produced in the US and is surprisingly cheap to buy.
The Hellcat was developed by Dodge's SRT team and became an instant hit, below are some of the more interesting facts and features people may have forgotten about the Dodge Challenger Hellcat.
Power Per Dollar

Hellcat Engine Almost Never Happened

Diamonds For Strength

New Development Process

Huge Demand

First Model Sold For Charity

Drag Car

Surprising Fuel Efficiency

Good Value

Red & Black Key
Read more
---
2021 Jeep Wrangler 392 review: High-speed off-road high jinks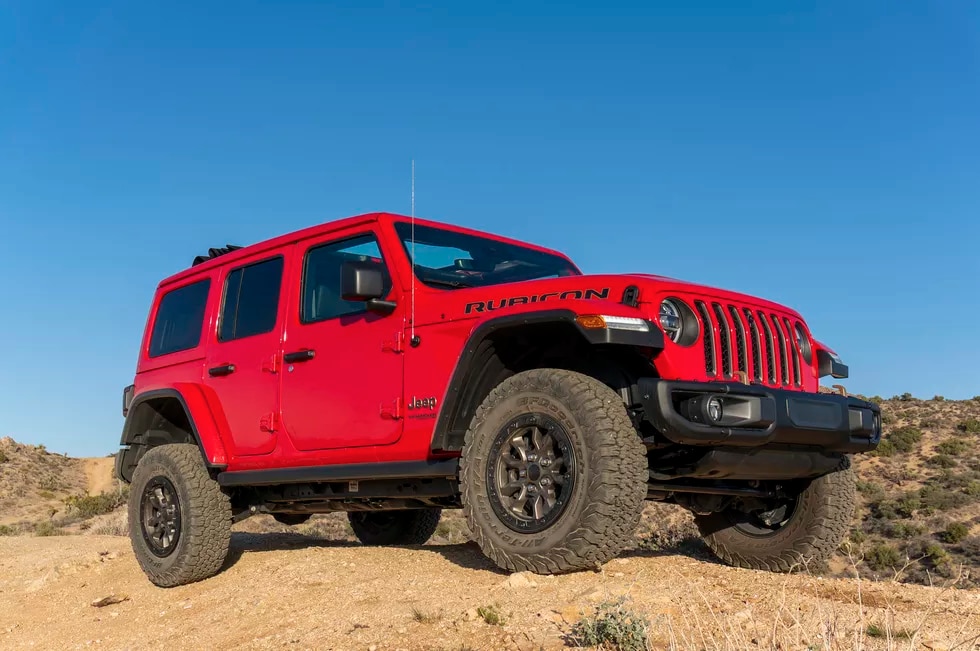 We begged for a V8 Wrangler, and boy did Jeep deliver.
"It's a very weird sensation: Here I am behind the wheel of a 2021 Jeep Wrangler Rubicon SUV, and I've just chirped the tires and rocketed to 60 mph in less than five seconds. It's unnatural. And I love it.
It's been 40 years since the 1981 Jeep CJ had a 5.0-liter V8 under the hood, producing a mere 125 horsepower. Times certainly have changed -- the 2021 Wrangler Rubicon 392 uses a 6.4-liter Hemi V8 with a stonking 470 hp and 470 pound-feet of torque. It makes for heart-pounding, head-tossing, seat belt-locking and maniacal laugh-inducing fun. But there are still a few issues with this otherwise thrilling package.When I start the 392, it defaults to the wake-the-neighbors loud setting, so right away I know it means business. Around town, the V8 burbles and grumbles, the eight-speed automatic transmission quietly working in the background. When I reach a long straight on a back road, I switch to the paddle shifters (in a Jeep!) and floor it. The nose rises up, my head snaps back and the full-time four-wheel-drive system gets the power down to the 33-inch BF Goodrich KO2 tires. After around 4.5 seconds, I'm at 60 mph. Goodness."
Read More
---
2022 Jeep Compass: Is This the Coolest Shape of a Gadget-Era Jeep So Far?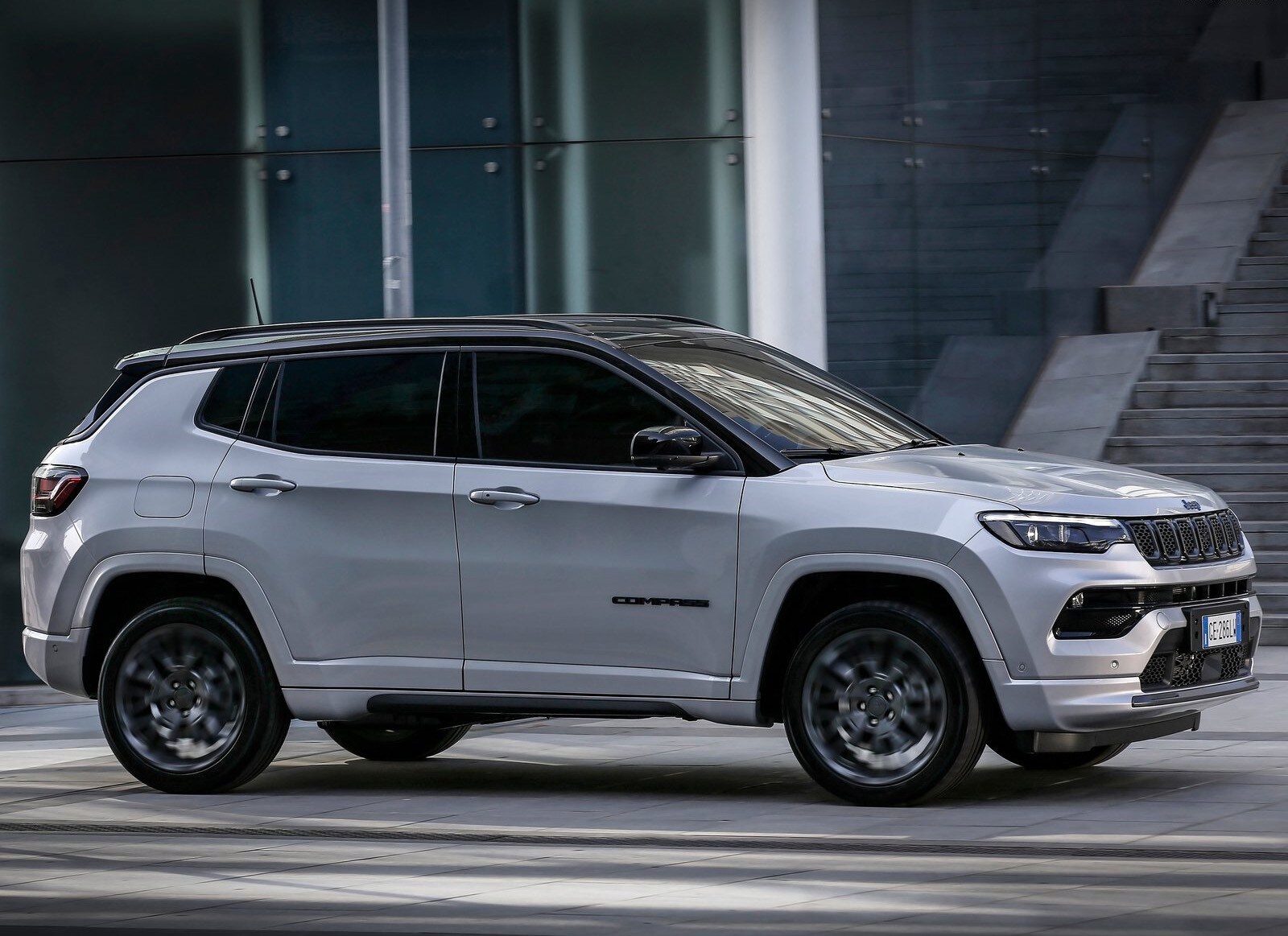 The first generation of the Jeep Compass series was something like a subcompact
SUV
of the early 2000s with an improvised traditional Jeep face added. It was using the Dodge Caliber technical platform as many other subcompact and compact family cars and SUVs of the American branch of the DaimlerChrysler group (1995-2007). Uninspiring start.
In 2011, the front end of the Compass was radically redesigned to resemble the Grand Cherokee model series. Already much better! The second generation was launched in 2018 as a product of the
FCA group
(formed in 2014).
The vision behind it was far more coherent than in the case of the previous generation. The second generation of the Jeep Compass had it all from the beginning: the modern technology of the SCCS (Small Common Components and Systems) platform, efficient engines, a 9-speed automatic transmission and a nicely integrated design. More than ever, it was clear that Compass aspired to the role of "mini-me" of the contemporary Grand Cherokee. A mini-me with a length of, however, 173 in (4,395 m). That's a quite serious car! Worthy to be mentioned: this was the first Jeep specially designed to hit global roads.
Read More
---

10 Sick Facts About The Ram TRX Pickup Truck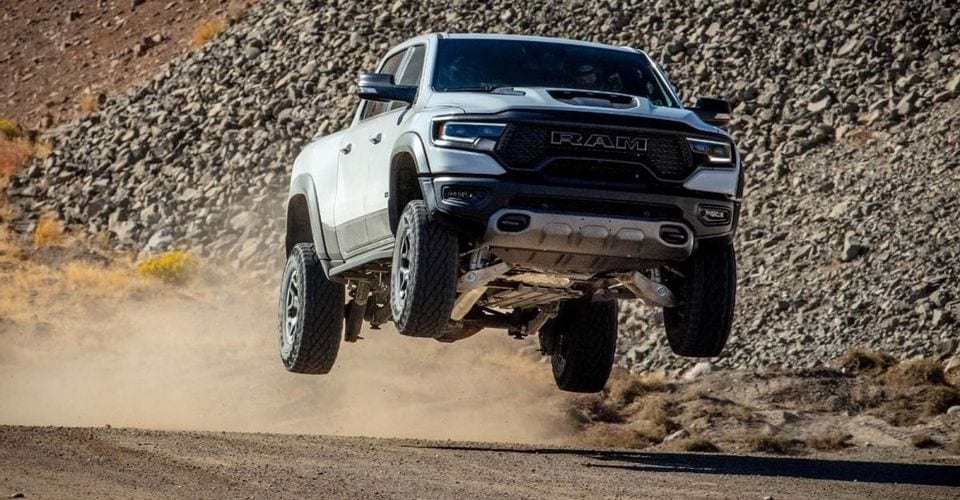 The popularity of pickup trucks in the US is at an all-time high, with the top three best-selling vehicles being pickup trucks. Pickup trucks are so popular that there are now categories within the market. For example, there are
heavy-duty trucks designed to haul heavy items
. Then there are the light-duty trucks, perfect for city dwellers interested in using them as daily drivers. The third and relatively new category is performance trucks. Performance pickup trucks are equipped with potent engines and premium components, allowing them to be quicker than some sports cars.
The latest entrant to the performance pickup truck market is the Ram TRX. The TRX is a limited edition truck and one of the craziest production pickup trucks ever. Let's explore some quick facts about this incredible truck.
The TRX Has An All-New Face
A HEMI V-8 Powers The TRX
The TRX Is The Most Powerful Mass-Produced Truck Ever
The TRX Is Built For Off-Roading
The TRX Has A Luxurious Interior
The TRX Is The First-Ever Ram With Paddle Shifters
Each TRX Will Have A Custom Plate Inside To Show How Special It Is
The TRX Has Eight Drive Modes
---
Accessorize your 2021 Jeep Wrangler 4xe with these new performance parts
Jeep Performance Parts now offers a range of cool new components for its electrified Wrangler 4xe.
Craig Cole | May 3, 2021 | Roadshow

"The 2021 Wrangler 4xe is the new hotness from Jeep. This hard-core off-roader melds the go-nearly-anywhere prowess of a standard Wrangler with the added efficiency and near-silent operation of a plug-in hybrid drivetrain. But for customers who want a little bit more capability or an extra dash of style, last week Jeep announced a range of new performance parts and accessories for the 4xe.
Available through the Mopar online store, these components include everything from all-weather floor mats and a molded cargo tray to off-road lights, a reinforced swing gate and even an awesome new front bumper. Arguably, the most important item on offer is a 2-inch suspension lift kit, supposedly an industry first for a plug-in hybrid vehicle. Priced at a not-unreasonable $1,495, this components set includes four springs, Fox shock absorbers, new stabilizer bar links, a bucket of fasteners and more."
---
Watch the Dodge Durango SRT leave a Mustang Shelby GT500 in the dust!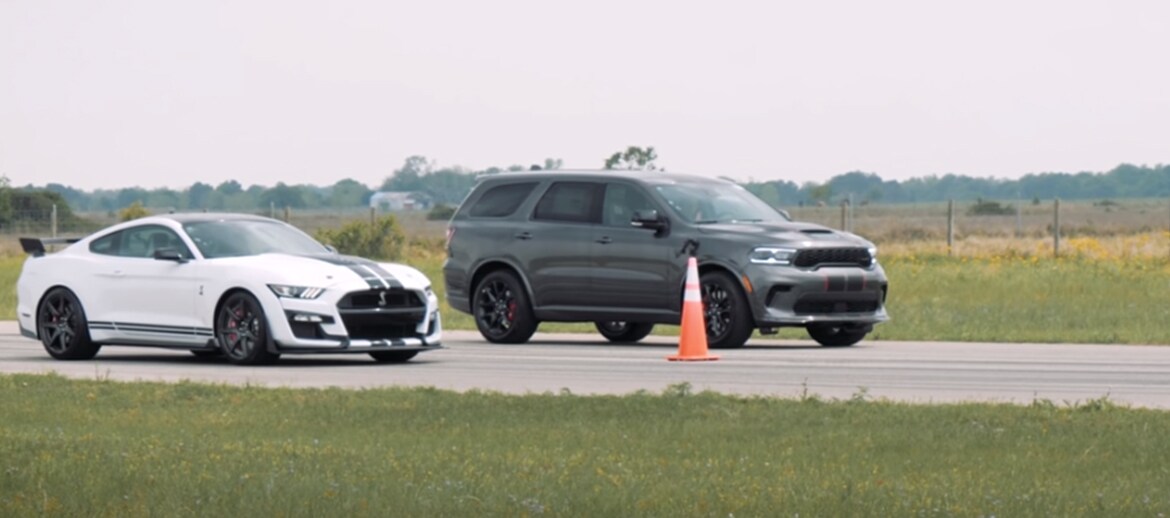 By DodgeGarage | April 20, 2021 | Read More
---