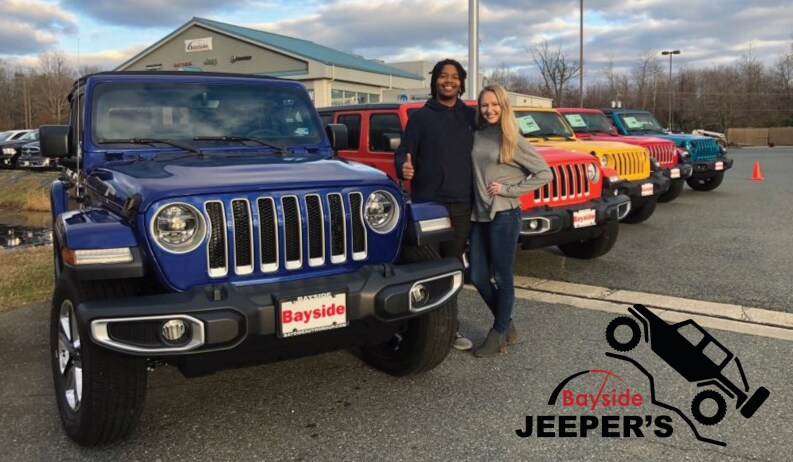 WELCOME TO BAYSIDE'S JEEP CLUB!

This is a group for ALL Jeep owners & Jeep lovers! Every Jeep is welcome!

Featured Jeep of the Week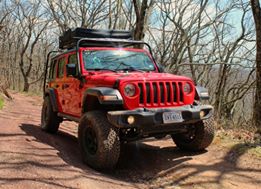 Dan's Jeep he purchased back in August!

There's so much more to owning a Jeep than all-terrain capability, instantly recognizable style, and a jam-packed trophy cabinet.
For some, it's the surge of confidence that courses through you every time you take hold of the wheel. For others, it's the realization that you could watch a thousand Jeeps drive by and still not see every possible variation. For many, it's the sense of community you feel when exchanging waves with a stranger simply because you both drive a Jeep.
For us, it's the adventurous attitude that each owner carries on and off the road. 
To recognize the loud and proud Jeep owners surrounding King George, Fredericksburg, and Waldorf, we created an exclusive Jeep club at Bayside.
Exclusive to whom, you may ask? Jeep owners.
Join The Bayside Jeep Club
Whether you plan on stepping up to a new or used Jeep at our King George dealership or you already own a Jeep, we welcome you to join Bayside's Jeep Club.
From the brand new Gladiator to the best-selling Grand Cherokee to the iconic models of previous decades like the Jeep CJ, we want to see how you rock your Jeep!
Send us a message on Facebook with a picture of you and your Jeep, or just your Jeep, and we'll automatically enter your Jeep to win Bayside's Featured Jeep of the Week award!

Interested in learning more about our Jeep Club? Contact us at Bayside Chrysler Dodge Jeep Ram.
Hours
Monday

09:00AM - 07:00PM

Tuesday

09:00AM - 07:00PM

Wednesday

09:00AM - 07:00PM

Thursday

09:00AM - 07:00PM

Friday

09:00AM - 07:00PM

Saturday

09:00AM - 07:00PM

Sunday

Closed