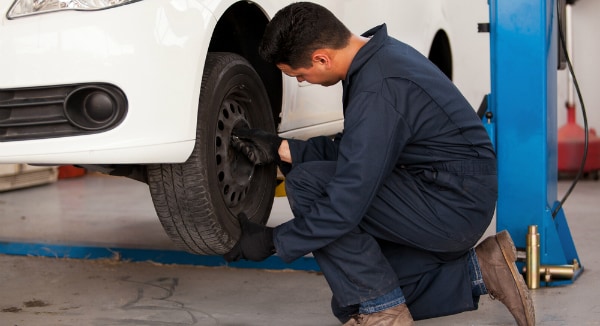 Tires are what keep your car moving, so it's extremely important to take care of them. Tire rotation is a key component of keeping your tires at their most optimal condition. The tread on your tires don't wear evenly due to driving habits and road conditions in our King George area. 
Usually the outside edges of your front tires will wear faster than the rest of the tire, while your back wheels wear more evenly. By rotating your tires you can help ensure your wheels will wear evenly throughout. This can make your ride more stable, and can lengthen the overall lifespan of your tires.
How Often Should I Rotate My Tires?
Depending on the type of vehicle you have dictates when you should have a tire rotation service done. Front- and rear-wheel drive vehicles should have their tires rotated every 5,000-7,500 miles. All-wheel drive vehicles need to be rotated every 3,000-5,000 miles because each tire is actively engaged while you drive around the King George area. 
Driving habits and vehicle conditions could change these intervals. It's also a good idea to check your vehicle's owner's manual for rotation intervals. Rotating your tires can be done at home, if you have the proper tools. If you feel more comfortable with one of our Mopar certified technicians rotating your tires, you can schedule an appointment online. 
Tire Rotation Service Near Me
If it's time to rotate your tires, please bring it to our King George certified Mopar Service Center for maintenance. Our Mopar certified technicians will be able to rotate your tires quickly and get you back into your Chrysler, Dodge, Jeep, or RAM. Be sure to look at our service specials for great savings before bringing your car in for a tire rotation. 
If you have any questions for our service staff, please contact us at Bayside Chrysler Dodge Jeep RAM in King George.